Hello my loves ♥ I hope you're all doing well! I'm both really excited and nervous to finally be doing this blog post. I know we shared the news publicly earlier last month but going into more detail is just a bit nerve racking. This whole thing has honestly been a roller coaster, don't get me wrong, we both are BEYOND happy and thankful but to me, it's also such a touchy subjected that everytime I think about our journey, all I want to do is cry of happy tears. Anyways, before we get started, if you haven't seen our announcement video yet and how I told my husband, here's the video.
I don't even know where to begin… so I guess lets rewind back a few years. Tom and I got married August of 2014, we actually then both decided that "if it happens it happens," and I went ahead and got off my birth control that month. Well, a few years has passed and still nothing. Not that we were really trying though. End of 2015 to early 2016 was when we started looking into it more. At the time, I wish Tom would've gone with me, but he was pretty busy with work and so he never went to any appointments/tests with me to the OB/fertility doctors. Anyways, those were a fail. Every "test" they did on me showed nothing and I just got sick of it because it just felt like I was trying and it was bills after bills for nothing. So I gave up… Plus 2016 was a crazy busy year. We moved to a different state/into a new home and were doing a LOT of traveling.
2017 rolls around, since we were pretty settled into our new home and Tom loves his new job, by around summer time we decided to look into a few fertility doctors around our area. We set up our first appointment after all the summer festivities. This time, I made sure that Tom is with me. September was a lot of going back and forth to the doctors, doing tests on both Tom and I. This time around though, our fertility doctor is really helpful. After doing a lot of tests and blood work, we finally found out what was "wrong." By the end of September, which by the way felt like forever, we were told that to be able to conceive, we would have to go through IVF (In Vitro Fertilization: a medical procedure whereby an egg is fertilized by sperm in a test tube or elsewhere outside the body).
My feelings towards this news were all over the place. I was glad because we FINALLY know what's wrong and that we have a solution; then I was unhappy because we have to go through it (and with only 69%, correct me if I'm wrong, chance of it actually working) and goodness, the PRICE!!! Estimated $23,000 (give or take). Now at the time, decided to keep trying on our own until the end of the year (because our doctor did give Tom a list of vitamins and such to take to maybe help get a healthy sperm, now these are just vitamins so it could work, but it also could not). If nothing happens by end of the year, we planned on going through IVF in early April 2018.
As for myself, I had honestly, I guess you could say, given up. I mean, we were still trying, but I wasn't checking when I was ovulating anymore, etc. I just didn't want to get my hopes up anymore. I remember that feeling of excitement when I'd miss my period, peeing on a stick… then come to find out it's a negative. It's heart breaking each time. I remember crying because to be honest, I've wanted a baby for a few years now… I remember feeling so sad and even crying whenever I'd find out that a friend/relative is pregnant -and here I am, not; I also felt so bad because I couldn't be as happy as I wanted to be for my friend/relative about their big news. I remember getting pretty upset too whenever someone asked me, "when are you guys going to have a baby?" I never knew what to say… I had just, I guess, lost hope. My husband, Tom on the other hand, did all the research and took so many vitamins and such to hopefully help. He's honestly such a trooper and did everything he could. I'm thankful he did, because look at us now! We were able to conceive on our own ♥
We are so thankful, this is honestly the best gift god has ever blessed us with.
If you are going through something similar, don't loose hope like I did. Maybe talk to someone about it instead of letting it consume you, because for a while… I did feel depressed. Also, pray.
God is always listening and will answer when the time is right.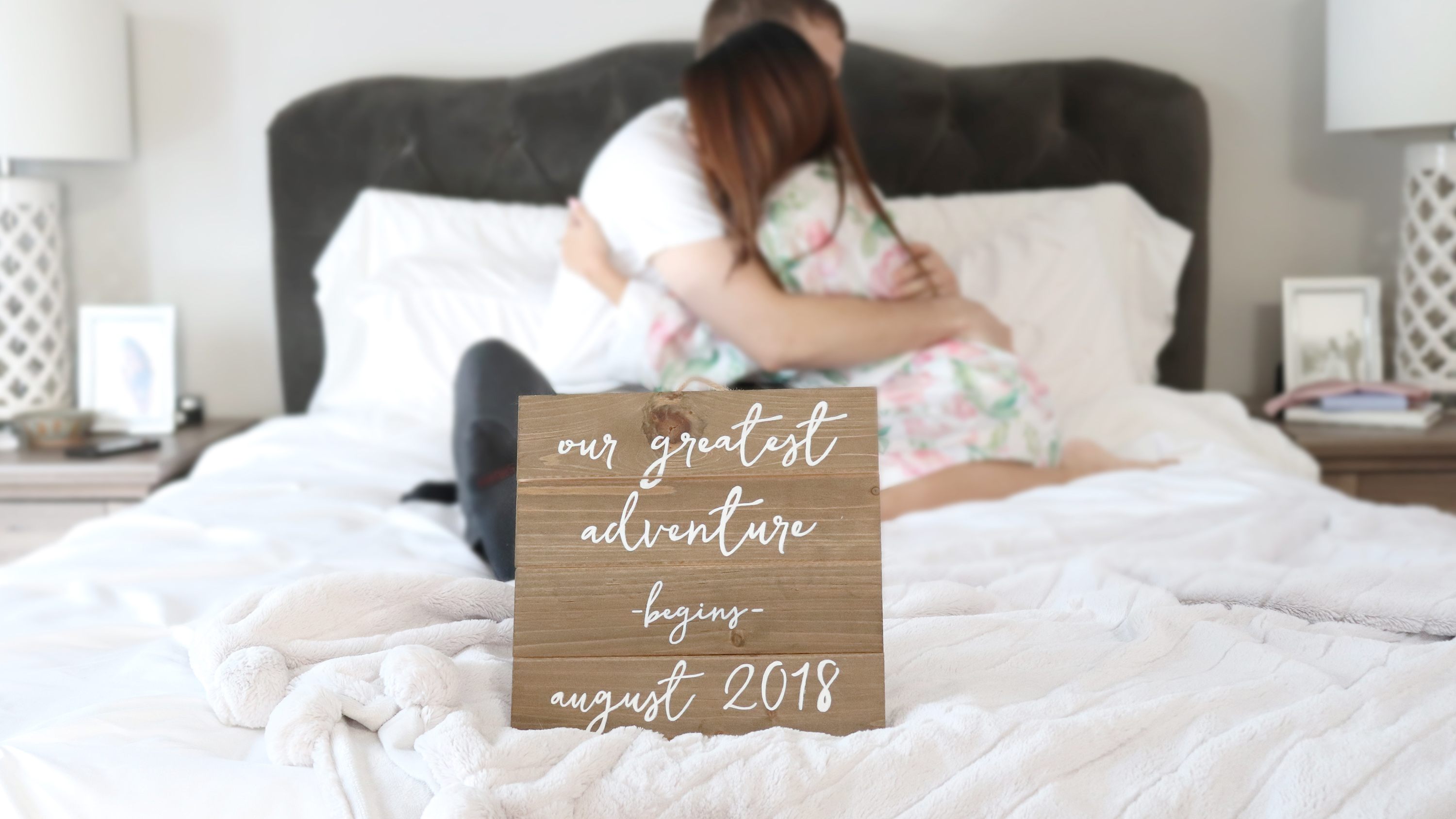 Finding out

We didn't find out that I was pregnant until 8 weeks in. I was feeling perfectly fine up until around the holidays (week of Christmas). I was always so tired and napping. Everything I was eating I would like then would make me gag. On our 1 hour drive home from visiting our family up north for New Years, I was feeling queasy/sick in the car. The next day I felt queasy again and for some reason I was like, "I should take a test." The test came out POSITIVE. I honestly could not believe my eyes! I took about 6 tests that day. They were all positive. I cried a lot that day… Buckets of happy tears :') Later that night, I told Tom the news. ♥

PS. If you're wondering how I couldn't have known for 2 months (not have my period of 2 months), it's because my periods were never regular. Skipping a month is normal sometimes, now I know this is 2 months.. I honestly thought my period was just late going into the 2nd month.
Telling our family

We told our family the same week we found out, but after going to the doctors and seeing the baby (ultrasound) for the first time. Tom and I went to the doctors right away after finding out and thankfully, everything was perfect. We were even able to hear our baby's heartbeat. I honestly didn't want to tell our family just yet… but I don't like keeping secrets and it was really the last weekend that our family will be together up north so it was just the right time.

My sister actually helped me put a cute box together with cute little baby socks and the ultrasound photo (pic below). It was right after the holidays so when we gave the box to our parents, they didn't think anything of it, they thought it was just another Christmas gift haha.
1st Trimester Symptoms

I actually had no symptoms until the very end of the 2nd month. I started feeling so tired and just exhausted all the time. I never had morning sickness (thank god), though I did get headaches quite a bit. There were times my stomach would feel a little queasy, but I would usually just eat or drink something and I would feel better. It's been pretty easy so far, I just sleep and have no energy to do anything.
Ie. Vacuuming our living room would take me two days.
I take naps A LOT and I'm in bed by 7pm/8pm.

Oh, after 11 weeks, I began coughing a lot due to sinus drainage, even until now – at 16 weeks, I'm still coughing here and there 🙁 As for my skin, my lips WERE extremely chapped the first two months, and my skin was clear AF! Towards the end of the 1st trimester, I had a bit of a breakout. My skin is still combination.

On the 3rd month, I started getting a lot of back pains. I would also get cramps on my butt cheek(?) and a little down to my leg. I've also noticed that my breasts has gotten bigger and would be pretty sore once in a while. I hate wearing bras and now, I hate it even more!
Cravings

I can't really think of anything that I'm religiously eating/have to eat. I've been eating pretty much everything I've always liked. Both sour and sweet things. I must say though, I love me some Spaghetti, Lugaw (Arroz Caldo) and Sinigang – and lately mashed up strawberries with cool whip and bread! haha Oh and I love me some Oreo McFlurries or Strawberry Cheesecake Blizzard ♥ I also love oranges, apples and kiwis.
Few things I can't stand are McDonald's chicken nuggets, fries, well, mcdonald's food really.. except the mcflurries, I love those lol.
I don't think coffee anymore, instead I drink tea – Yogi's Mother To Be. I still drink pepsi/coke, but only about a can or glass a day – just so I get some caffeine in me to prevent headaches; And I drink about 4-6 bottle (500mL each) of water a day.
Gender Reveal & Names

I LOVE the idea of a Surprised Gender Reveal but the husband isn't a fan haha. So we are just going to find out during our 19 week ultrasound 🙂 ♥ We are thinking of getting something for our parents though, like a balloon or a little cake to show them the gender. As for names, we started a list -well okay, I started a list, but they are also names that Tom likes. I MIGHT share the name with you all later, Tom and I have still yet to discuss this haha.
Pregnancy Fears

Oh was I paranoid!? And I actually still am. As you can see, it's been a heck of a ride for us, so when we found out I was pregnant, the first thing I read about were miscarriages. Though it doesn't run in my family, it still is possible. I literally would be so careful. I don't drive if there's snow on the roads, I don't go anywhere without Tom (unless I have to), I don't lift heavy things anymore, I haven't worked out because I'm scared to move/push myself too much, I'm constantly checking myself for spotting whenever I go to the bathroom, I read everything on what I can and can not eat – and if it's something I have to cut out of my diet, I will. Seriously, I am paranoid and I think it's okay.
Superstitions

I actually bought a cute little book at HomeGoods, Fortune-Telling Book for Moms-to-Be. It's such a good read! I'm Filipino so I'm pretty big on superstitions and semi believe in them haha. Some of my favorites from the book…

» Eating coconut meat or drinking coconut water will give your child a beautiful face and smooth skin.
» For a healthy and beautiful child, eat avocado during your pregnancy.
» Eating pasta (especially long, thin noodles) during pregnancy spells a long life for your baby.
» Eating strawberries while pregnant will ensure that you and your baby will always have a close bond.
» Cravings for savory, salty or spicy foods signify a boy.
» Cravings for sweet foods or citrus fruits portend a girl.
» Some cultures (I heard this in the Philippines) believe a baby girl "steals" the mother's beauty during the pregnancy. If you do not feel beautiful when you are pregnant, you may be having a girl. (Do not worry-after the birth you will be back to your previous lovely self.)
» If you prefer to sleep on your left side during pregnancy, the baby may be a boy.

One thing my mom and sister told me before – if you drink or eat a lot of "dark" food/drink, then your baby will be tan/dark skin.
And that pretty much wraps up this blog post. I truly hope that you all enjoyed reading (and watching the video). I can't wait to do more updates and share this journey with you all. Thank you for stopping by and see you all soon ♥