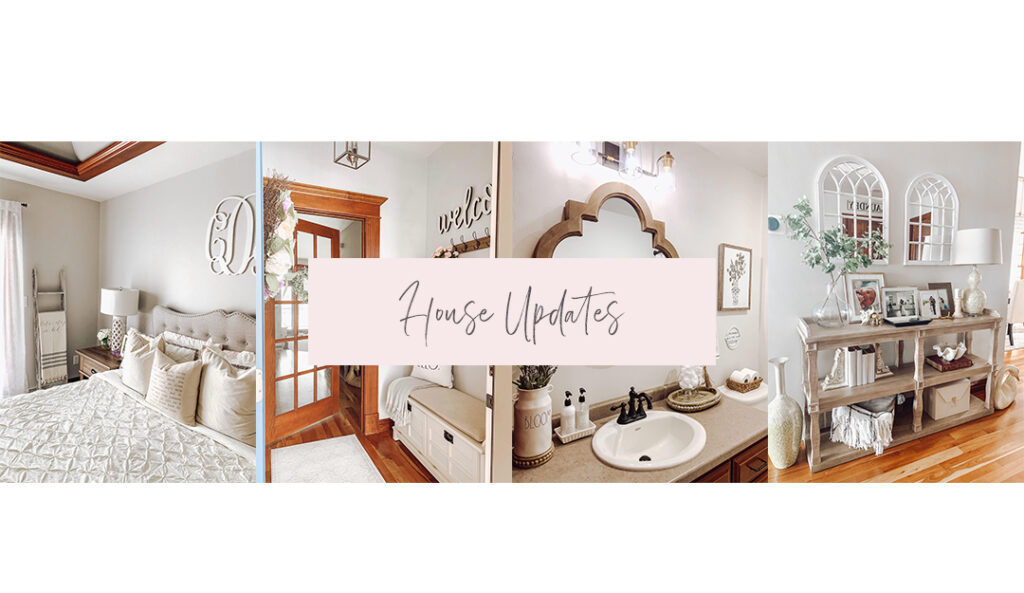 Hello loves, I hope you're all doing well. ♥ Today I wanted to share with you a post full of house updates! I know it's only February but I feel like we've already done so much (which I'm so happy and proud of) that I want to share with you now before I forget to later on. I plan on doing this every other month, I think that'd be really fun to look back on, later on this year to see all our accomplishments.
So let's go ahead and get started!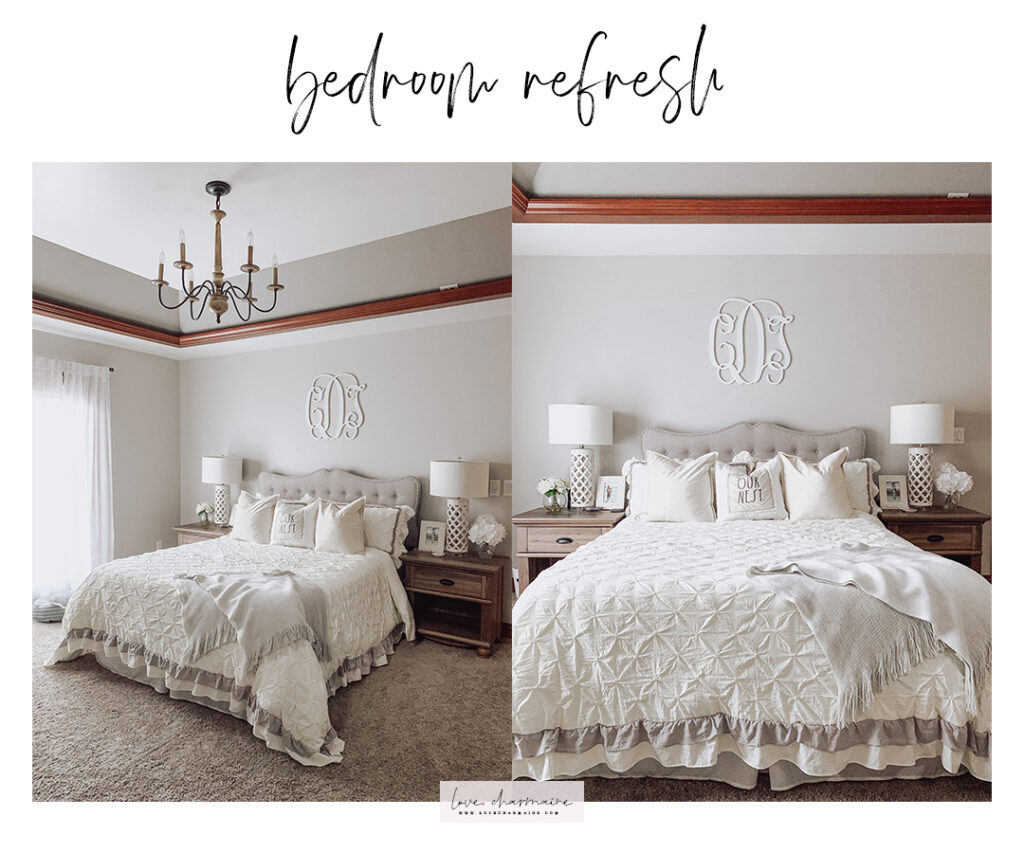 The very first thing I did this year was buy new bedding. For some reason that has been a yearly thing. I'm not sure how often people buy new bedding/comforter sets but with me, it's every year. And I like to do it in the beginning of the year. Our bedroom is one of our favorite rooms, we spend a lot of time here so bedding is definitely important ♥ And I feel like by the end of the year "it's all worn it and time of a new one." (haha or is that just me?) Anyways, I think if you want to refresh or do a little make over for your bedroom, getting a new set of bedding is a great way to go! It really sets the mood of the room and who doesn't like a new soft fluffy thing to lay in? hehe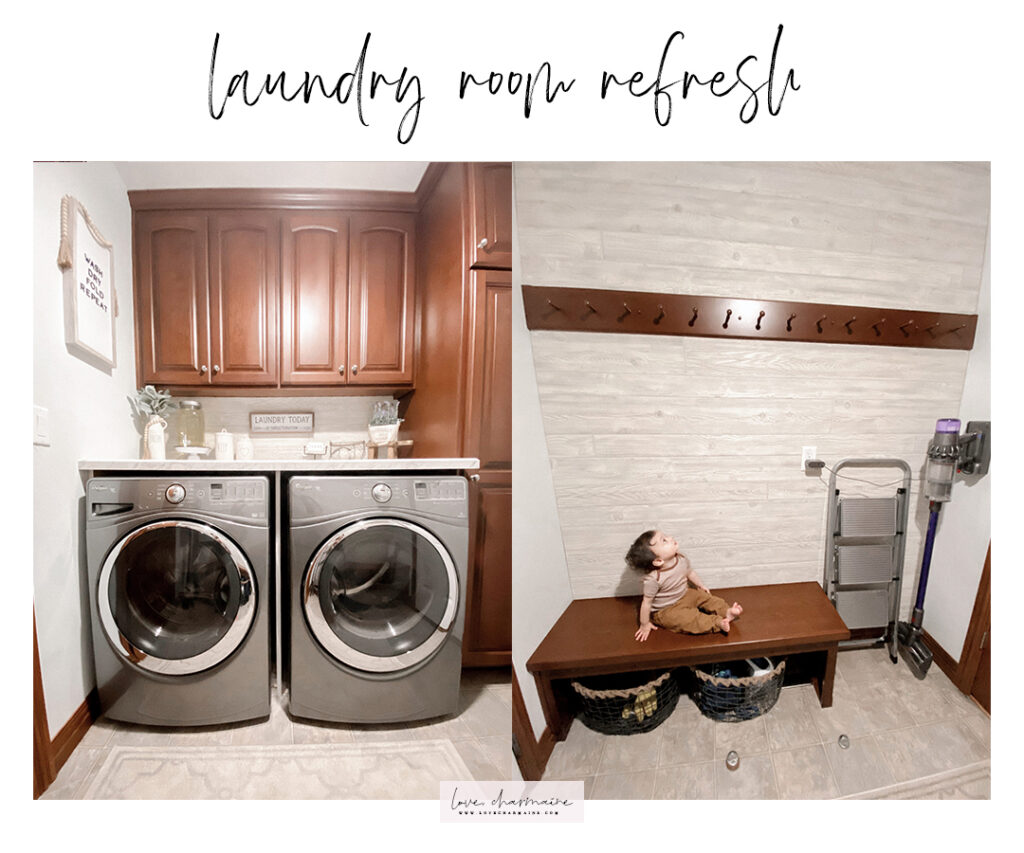 Our first big project of the year ♥ I'm so very happy with how this space turned out! Totally in love with it! If you haven't seen it yet, I did a whole blog post and vlog on how we updated our Laundry Room, you can check it out here.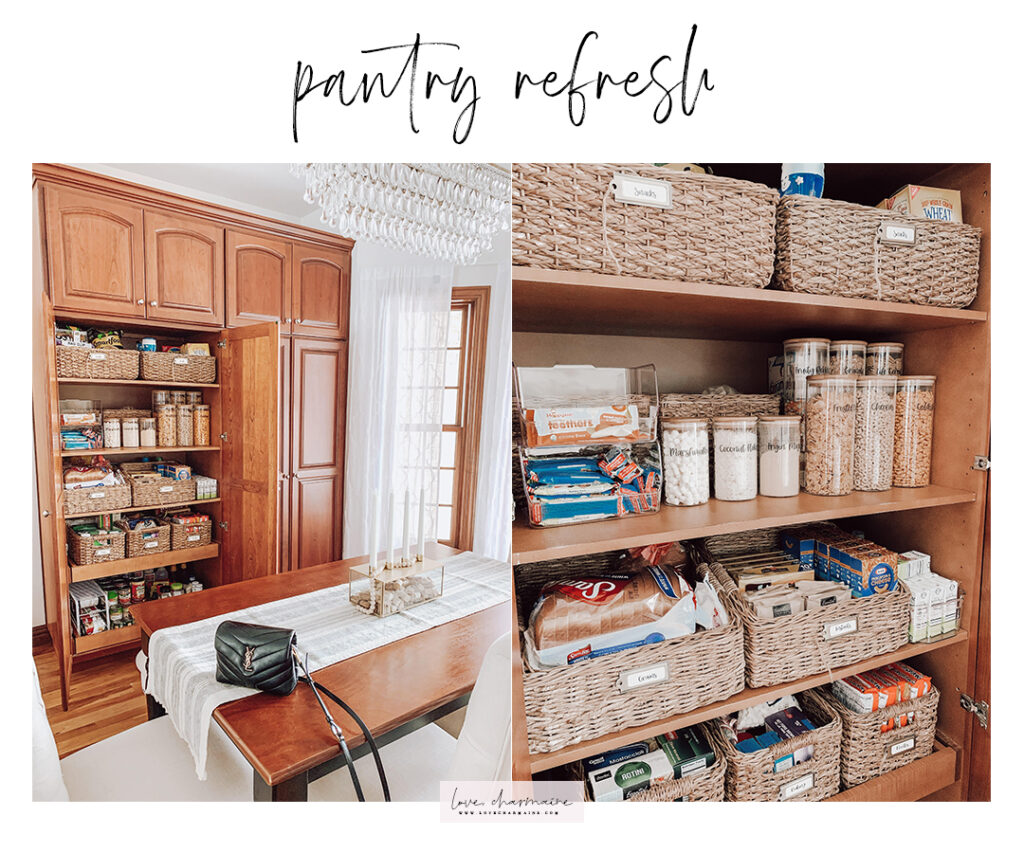 One of my favorite things is pantry organization. It's just so satisfying to look at organized baskets with labels ♥ It's been a long time since I've spruced up and organized our pantry so it felt so good to do it. I did a whole blog post and vlog on this whole process, you can check it out here.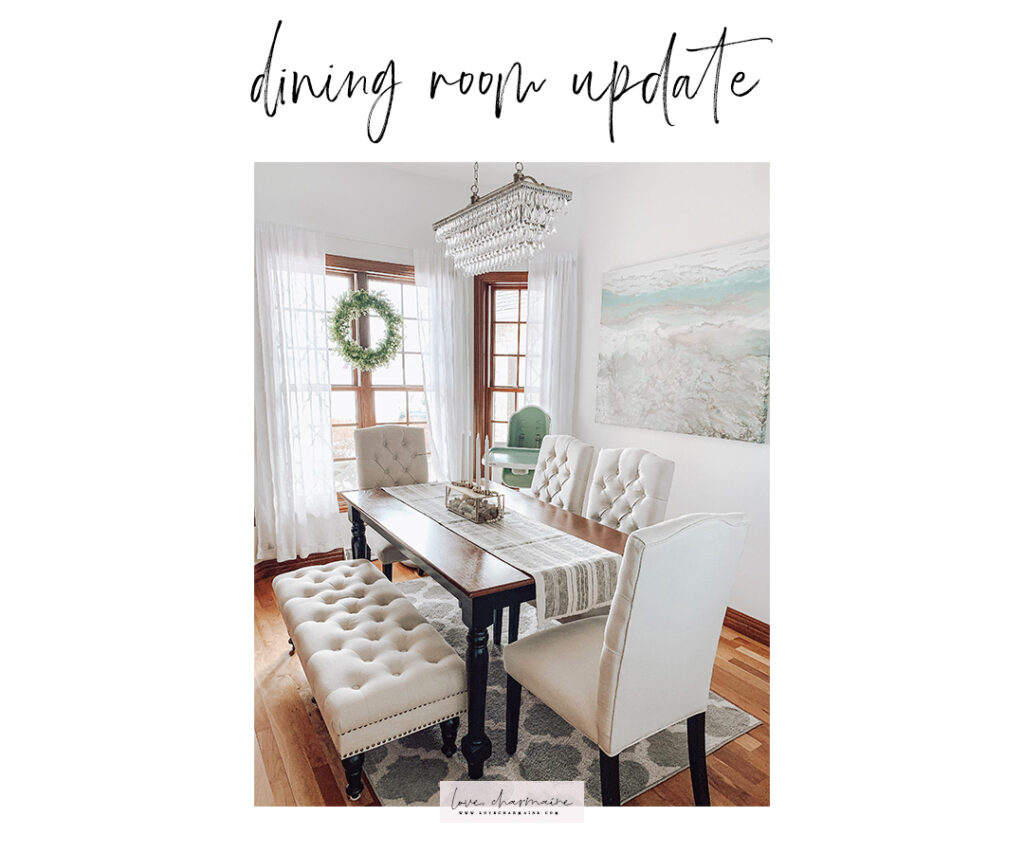 Nothing much has changed in our dining room. We still have the same furniture, though we did add this bench. Liam's growing up and you see that high chair in the corner? He now hates it. The bench is for him to sit and stand on while eating haha. Eventually, I'm hoping to change things up in here. I'm not sure if I want new furniture because what we have is still in great condition… but I know that I want something new. I'll definitely keep you guys posted 😉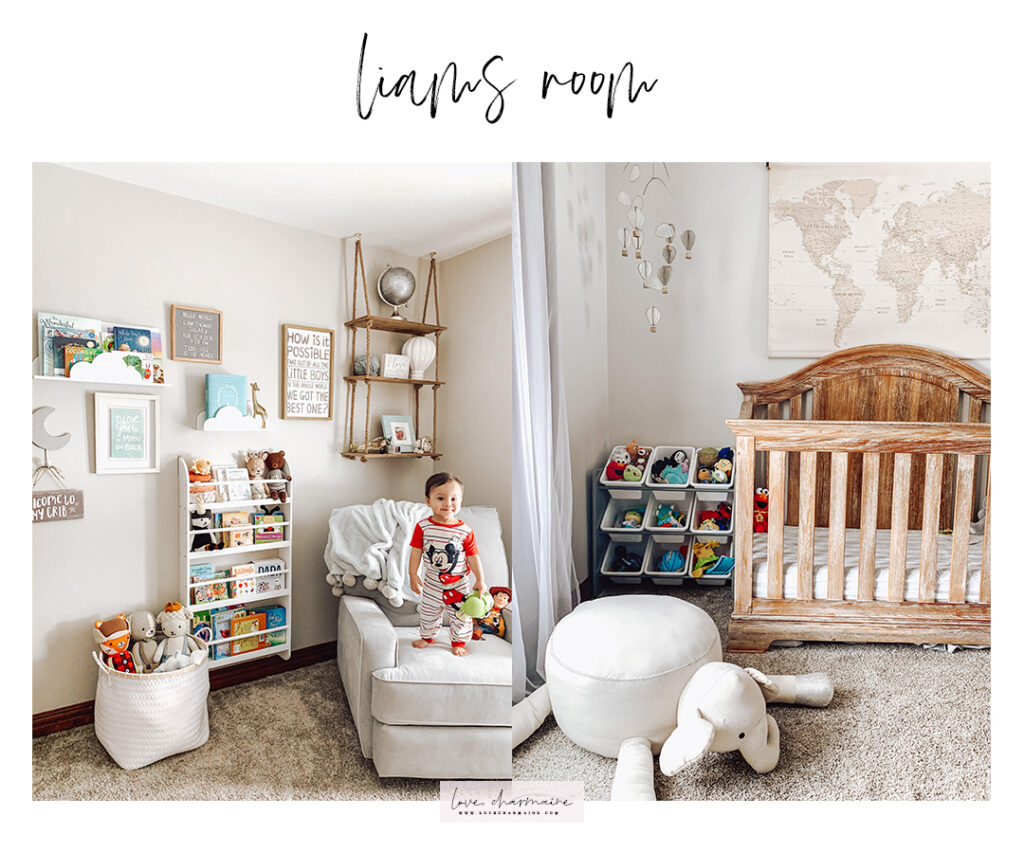 Oh my goodness, I'm not sure if I ever told ya'll, but I love Liam's room! I just think it's so nice and relaxing and fun in there ♥ Since he's growing up and has accumulated a TON of books and toys, we decided to get him a few organizers. First one is his new bookshelf. Isn't it just the cutest!? I'm obsessed and I love how it goes so well with everything else on that wall ♥ He loves being able to see all his books and get it himself. He also loves re-organizing them hehe. The second thing we got him are these bin organizers for his toys. It actually took me a long time to find one that's this small and in the color scheme that matches his room. I really like these bins, for we can organize and separate toys… oh the OCD in me is so happy.
Our foyer hasn't been touched for a long time. I do change up a few knick knack but relatively, it stays the same all year round. Finally this year I decided to change out the art (we've had for 6 years) that was hanging above the console. I found these faux window mirror frames at T.J. Maxx for only $16.99 each! Such a steal because the ones I keep finding online were all over $50.00. I also changed out some of the decor here and stuck with neutrals ♥ I really love how it turned out. // On another note, I've gotten a lot of questions as to where we got our console table, it's from Joss & Main, sadly it's no longer available so I'll link a few recommendations below.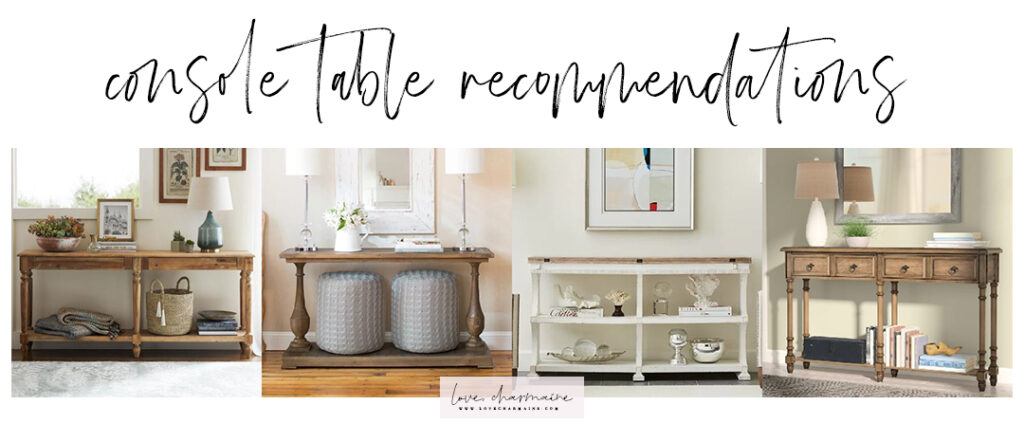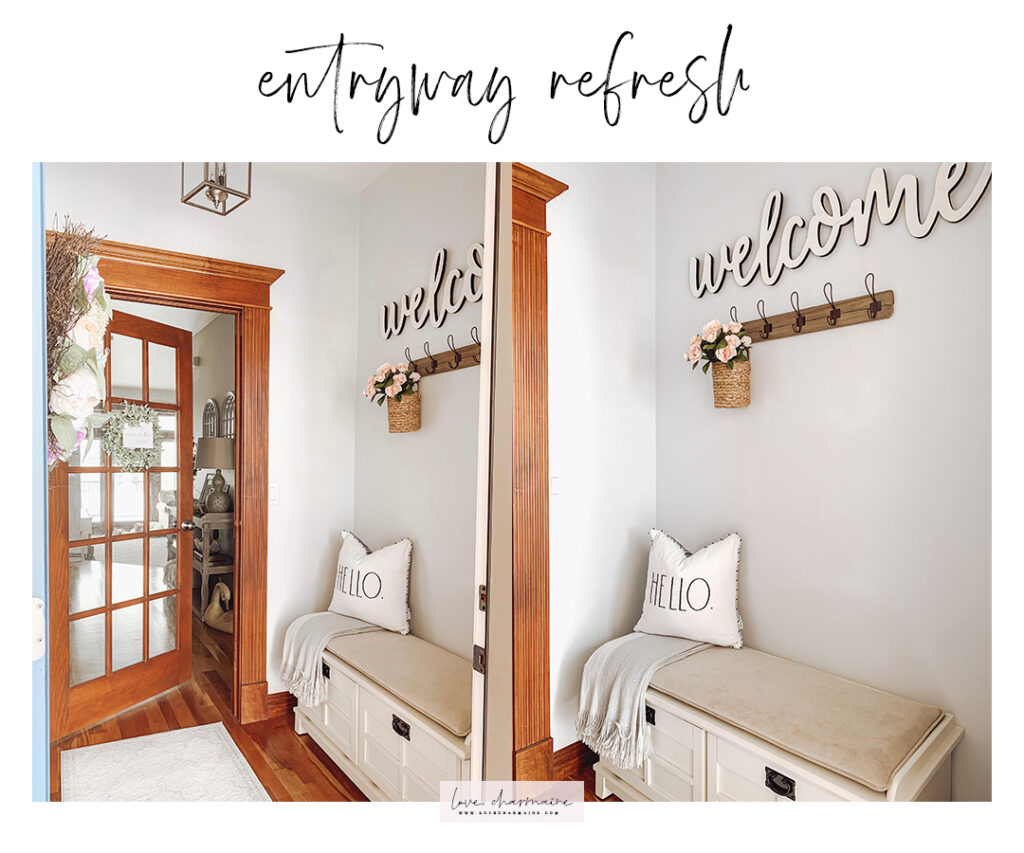 Our entryway was slightly updated ♥ We changed out the coat rack to this rustic looking one, that I actually purchased summer of 2017 (oy! LOL). Finally it's up on the wall and we love it! I also painted our black welcome sign, this off white color and added this cute little hanging basket as decor. Viola! ♥ I'm still debating if I want to change out the mirror (not pictured). I'll save that for another day hehe.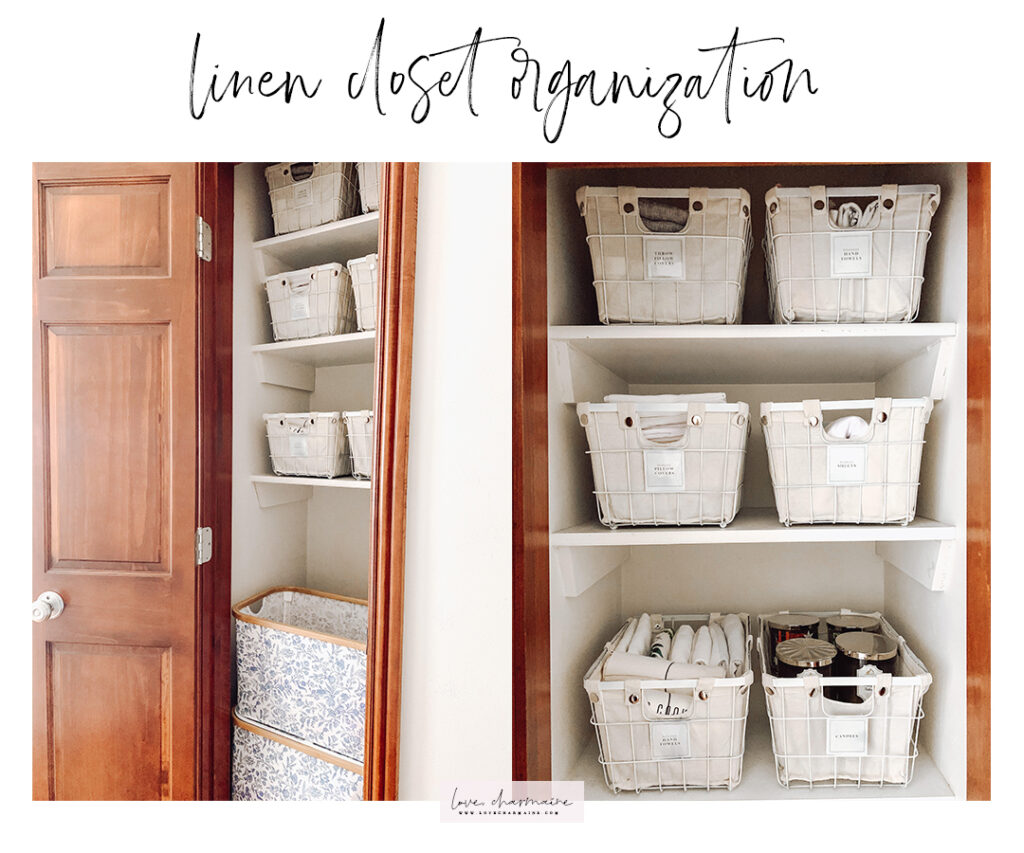 Oh my goodness, this closet was so FULL and just disorganized that I didn't even want to take a "before" photo. I did some major de-cluttering and organizing in here and BOOM! Would you look at that? A fully functional space and can we take a moment on how easy it is on the eyes? ♥ Also, do you recognize the bins? Those are the ones that used to be in our pantry hehe. So happy with this.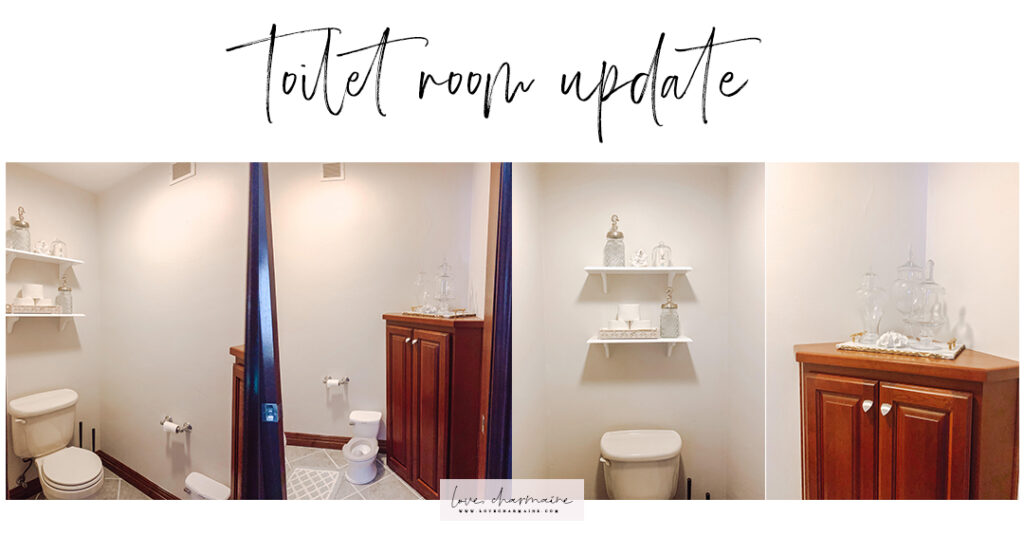 I almost completely forgot about the little updates that we did to this room. This is the "toilet room" in our master and boy this is the hardest room to take a photo of! Anywho, it was a really light blue color (Quicksilver by Sherwin Williams) before and I decided to repaint it with the same color we repainted our guest bathroom in –Incredible White by Sherwin Williams. We also added some shelving above the toilet and I did a TON of decluttering in that cabinet that you see. ♥ Maybe later on I'll show ya'll how I have it organized in there.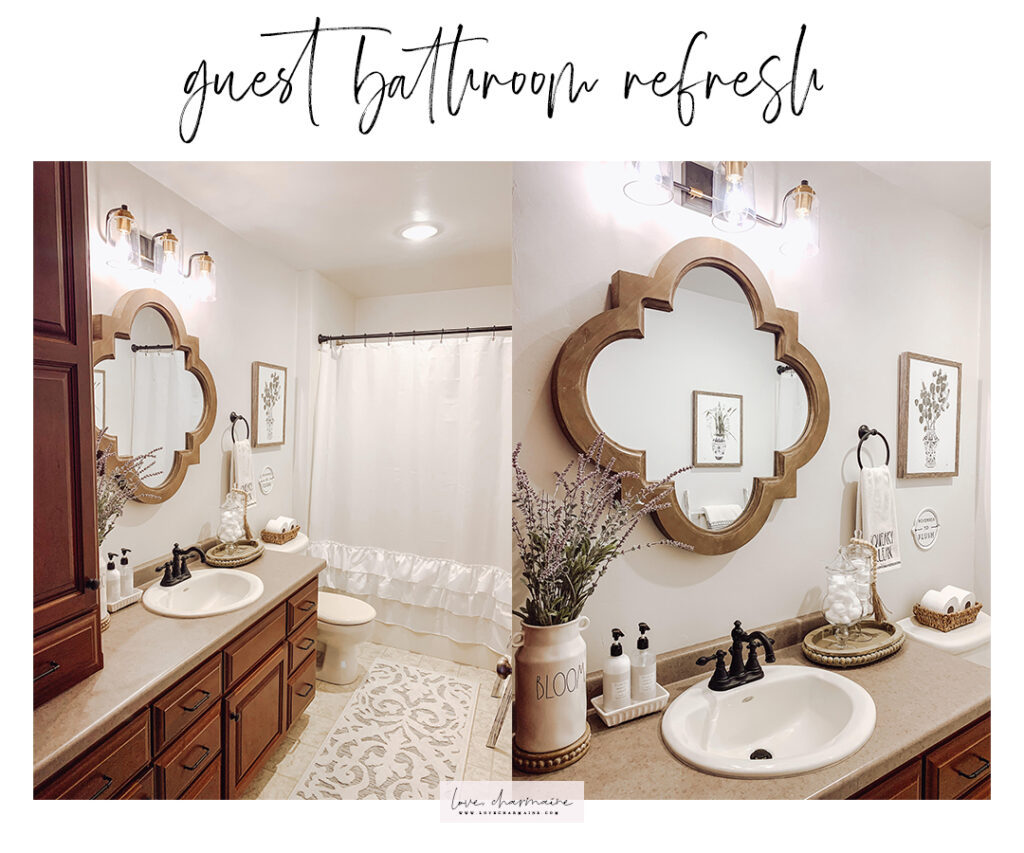 This room came together quicker that I thought! I did do two blog posts about it, the planning and the progress & details. And finally, here you see the almost finished product ♥ We'll be changing out the flooring in here later this month and I'll make sure to update ya'll once that's done.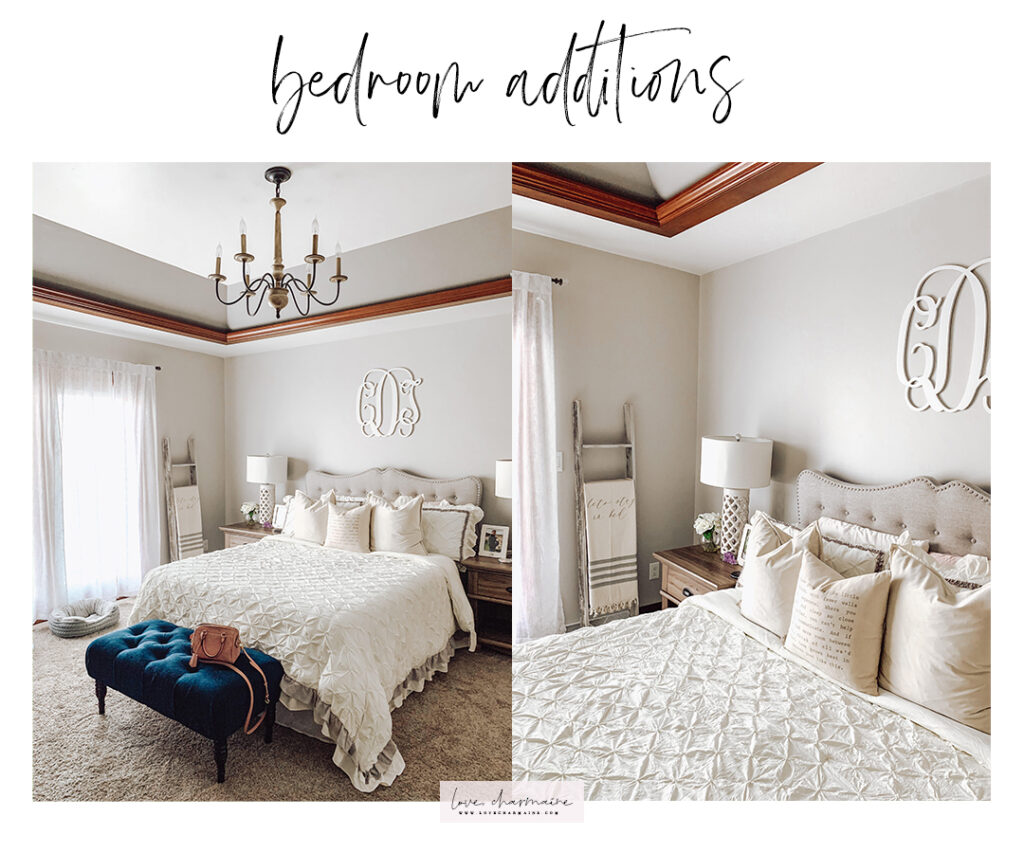 So a few weeks ago, I became a PCB Home Ambassador (learn more about PCB here). I decided to be an ambassador for PCB Home because I adore their products and really wanted to support small businesses. Honestly when I got my first items from them, I was blown away! ♥ It's such great quality! I absolutely love that they have quite a lot of customizable products so now, I know where to go for gifts on special occasions.
For our bedroom I added this beautiful 5 ft Blanket Ladder (which I mainly got because of the Let's Stay In Bed Throw Blanket) and doesn't it just look so good!? The ladder is actually a bit of a darker color, it's really rustic. To match our bedroom, I gave it a little white wash of paint -using a sponge and white acrylic paint. I've also added the Love Grows Pillow from PCB Home to our bedroom and I just love it as an accent piece. ♥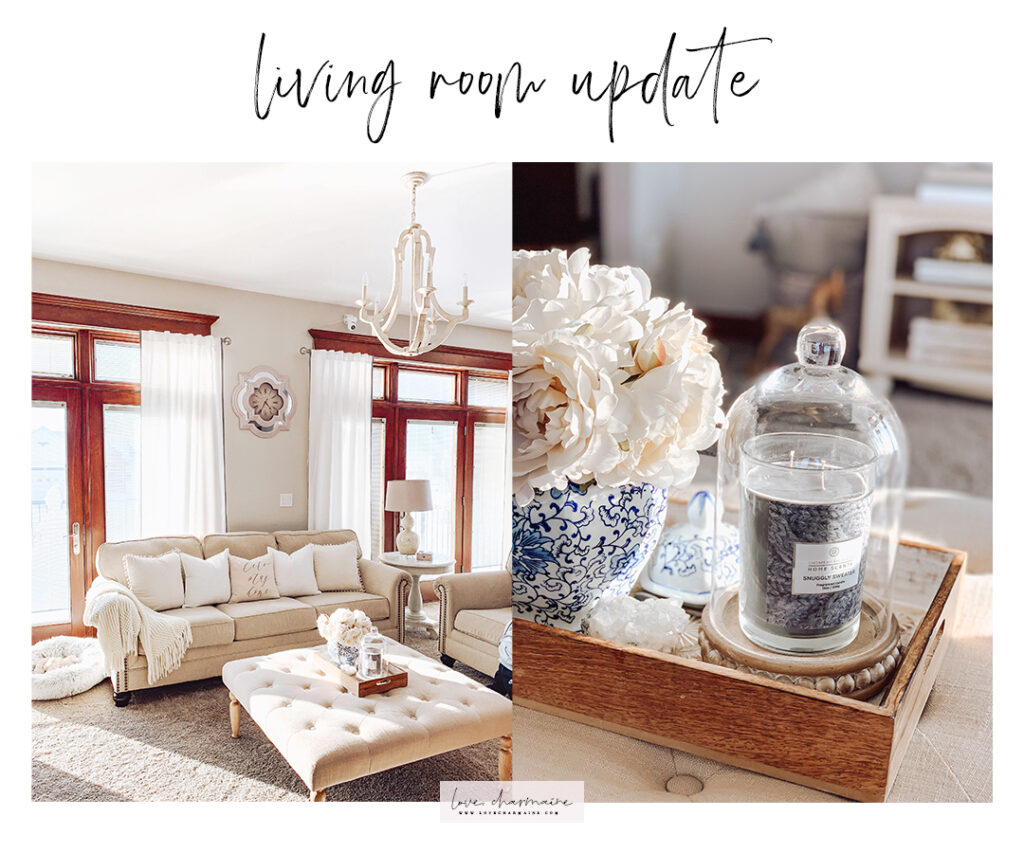 In our living room, I've changed up the cushion covers. (One of the things that I've learned over the years is STOP BUYING THROW PILLOWS! I literally have so many and honestly, don't need all of them and they're so hard to store. So instead, I buy the covers. So much cheaper and more convenient too.) I've added the Let's Stay Home Pillow from PCB Home, White Velvet Throw Pillow Cover to break up the beiges, and Cream Velvet Pom Throw Pillow Cover to add a bit of fun with the pom poms hehe. I really love how this looks and the velvet pillow covers are soooo soft ♥ Also, so inexpensive, I highly recommend!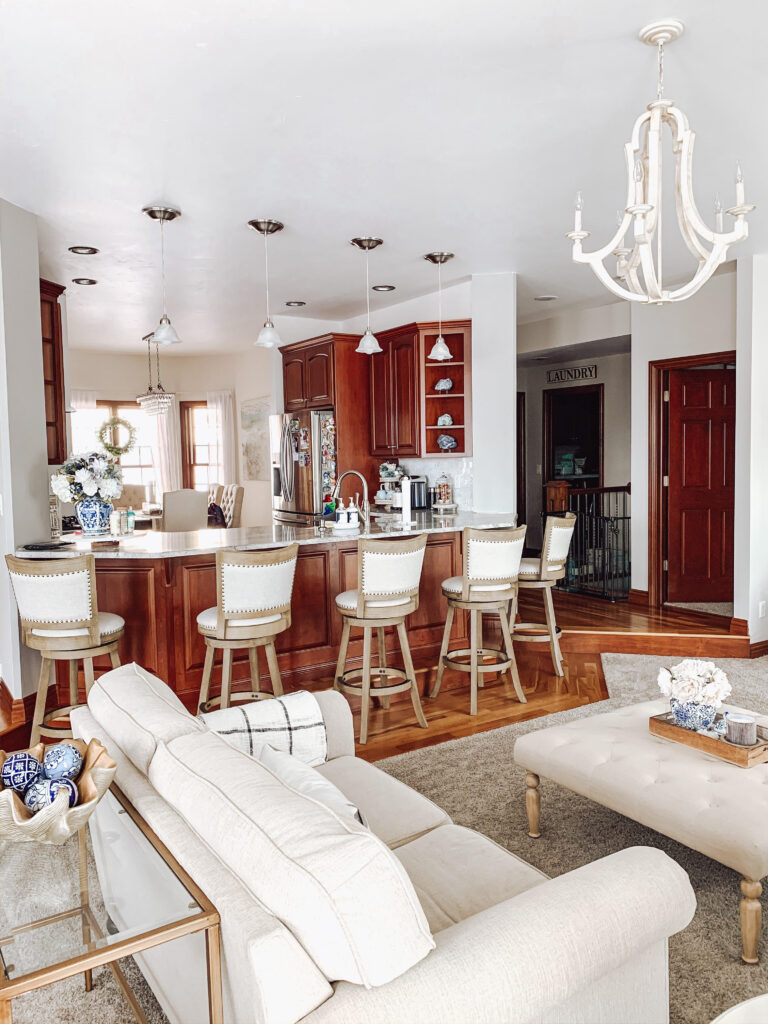 And that's it, that's everything we've done so far around the house. I'm so so so happy about how our house has come along the past 3 years (going to be 4 this May!). I can honestly say that it feels like Home ♥ I can't wait to cross off more on our to-do list and share with ya'll. So I hope you enjoyed this blog post. Thank you for being here and until next time.
xoxo