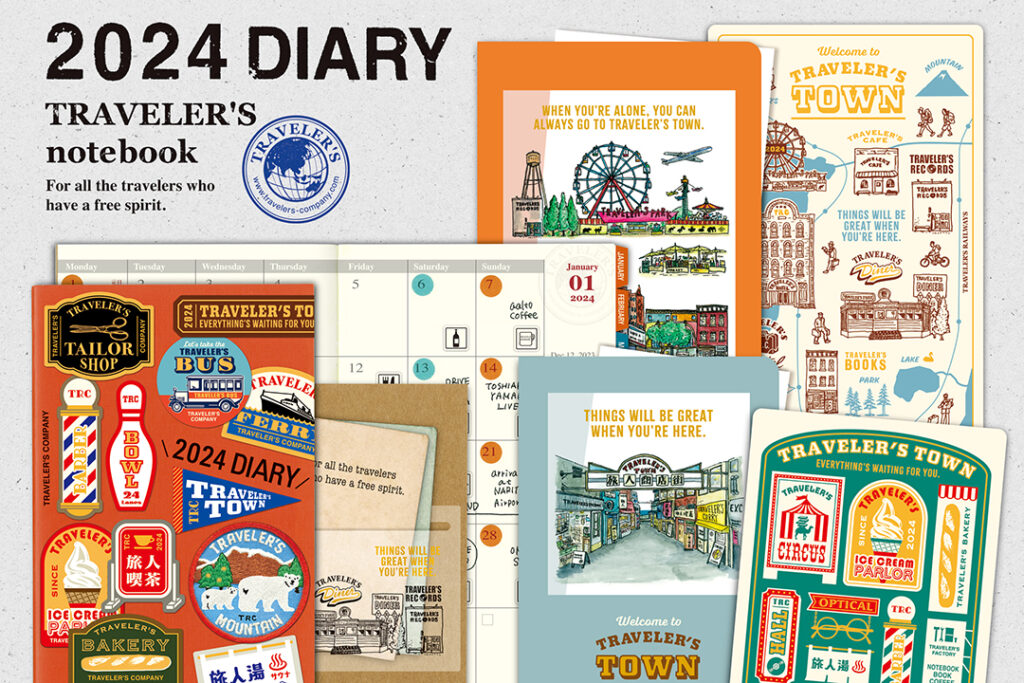 Wooooo! I always look forward to Traveler's Company's yearly release. For 2024 it's, Traveler's Town and oh my goodness, it looks so good. Pre-orders on TRC website starts on October 2nd and ships out October 10th, but over on Atlas Stationers, pre-orders has already started and are due to ship mid October. I did place my pre-order over on Atlas Stationers because I can't wait any longer haha. Also, YES, my 10% OFF coupon code (CHARMAINE10) will work on these items.
Anyways, let's take a look at the collection… (photos courtesy of Traveler's Company)
Traveler's Customized Sticker Set $12.60 – One thing I know is you have to get this, and not just one, but two haha! Trust me, I learned from my past purchases! These stickers are stinking cute. They sell out super fast too and are so handy that you will be sad if you just got one. It comes with index and pocket stickers, icon stickers to represent different plans, dry transfer, and stickers to decorate the cover.
Traveler's Plastic Sheet $5.20-$5.80 – Probably my favorite accessory for all my journals… a "pencil board." Honestly, comes in handy for all the things. You can use it for sturdy writing on the go, as a ruler, a quick washi cutter, a dashboard for all your post-its. The list goes on. I do not go anywhere without one. They have two different designs available, one for the regular TN and the other for the passport TN.
Traveler's Clear Folder $5.80-$6.40 – I wasn't a fan of this until later on. Once you have one, you'll understand. It's such a handy little thing. Perfect to tuck into your journals for on the go, to help keep all your valuables safe and organized. Of course there's two different designs for this as well. Love the orange color for the TN regular and the pretty blue for the TN passport.
And we can't forget about the inserts for 2024! Sadly, I didn't pick any of these up as I don't use dated inserts for my TNs. But if you do, they usually come with an awesome guide and a sheet of customized stickers. It's pretty awesome and you can't get them anywhere else.
Traveler's Weekly Diary Passport Size $21.00, Traveler's Monthly Diary Passport Size $10.00
Traveler's Monthly Diary Regular Size $12.60, Traveler's Weekly & Memo Diary Regular Size $28.00, Traveler's Weekly Vertical Diary Regular Size $28.00
So there you have it! That's Traveler's Town for 2024. Are you picking anything up from this collection for your 2024 line up? Happy shopping friends!