Hello dolls ♥ I'm so excited to share with you beauties my new planner!
As I mentioned in my wishlist, I have been wanting a more compact planner for on the go and
so, here's my Louis Vuitton Small Agenda (PM) in the monogram print.
I actually purchased her on GILT. So I got a really good deal on her. Even though she is
"pre-loved," as you can tell from the photos, there's no sign of wear at all, which really
surprised me! I mean, I looked at the photos on GILT as well and it all looked good but
you never know with the photos right? So really, when I finally had her in my hands, I was
just super thrilled on the quality ♥ She is perfect!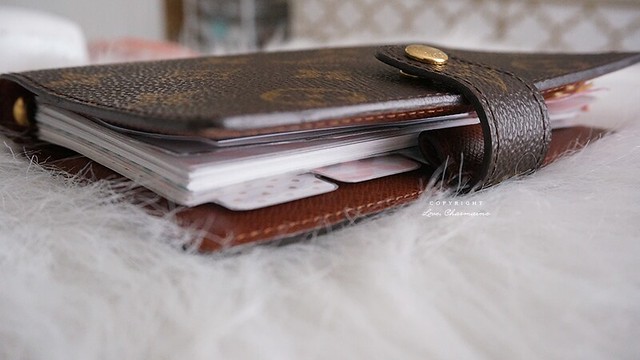 What I use this planner for?
I have this planner set up for my daily errands and to have somewhere
to jot things down quickly for when I'm on the go.
Here's what I keep in my Agenda. As you can see, not much 🙂 Just the necessities!
I have a few business cards tucked in the pockets, extra paper clip bow and some sticky notes.
In the back, I keep a pad of sticky notes 🙂
I'm actually waiting on my zippy envelope from Filofax. I'll be putting that in the back
of my agenda where I'll store some stamps, address labels and what not.
Overall Look
This is what it overall looks like. Simple, cute and pastels ♥
Of course right!? It can't be "Charmaine's planner" without anything pastel!
I made all the dividers myself 🙂
I have them all listed below in this post if you're interested.
My monthly & weekly pages/inserts were also made by me.
I designed & illustrated them on Photoshop -printed & cut to size and VIOLA ♥
If you're looking for pocket size inserts, let me know. I might put these up for downloads.
The rest of the inserts were from Kate Spade's 2014 Pocket Inserts set.
They fit perfectly into the planner 🙂
All dividers were made out of scrapbook paper from Teressa Collins Studio Gold Collection.
My Business Cards
I recently made myself some new business cards with my new name and all.
I'm so in love with them hehe, and yes, that is gold foiled 😉 ♥
contact me hello@plushdesign.org if you need customized business cards
designs starting at $50, print cost not included.
…and that's a wrap!
I hope you enjoyed taking a look on how I have my planner set up 🙂 I seriously am so in love
and super happy with my purchase. If you have any suggestions (I'm looking for a pen that'll
fit the pen loop & cute envelopes) let me know in the comments below! I'll also most likely do
a whole video about this later on once I'm completely done setting her up and what not 🙂
So any who, thank you for reading and see you loves on my next post!