I'm so excited to share with you another hobby of mine, nail care. My nails are usually pretty long and in good health, but I had the brilliant idea to get acylics during the holidays and I can not even begin to tell you how that destroyed my nails. Ever since, they've been nothing but brittle. They're so brittle that nail polish doesn't even stay on because they would bend making the polish chip right away. I can't wait 'til the day that they're back to normal.
Any who, to cope with it, I decided to try out press-on nails. (See my nails IG highlights here) Since December, I've tried out so many kinds and I now know what I like and what I don't like. Also some tips and tricks on how to keep them on for longer. Below are my MUST HAVES ♥ Kiss press-on nails (glue on) are my favorite! I've tried the IMpress ones (I think that's what they're called) and eek, I can't say that I'm a fan. I feel like they definitely do stick on but they feel awfully bulky. Not great.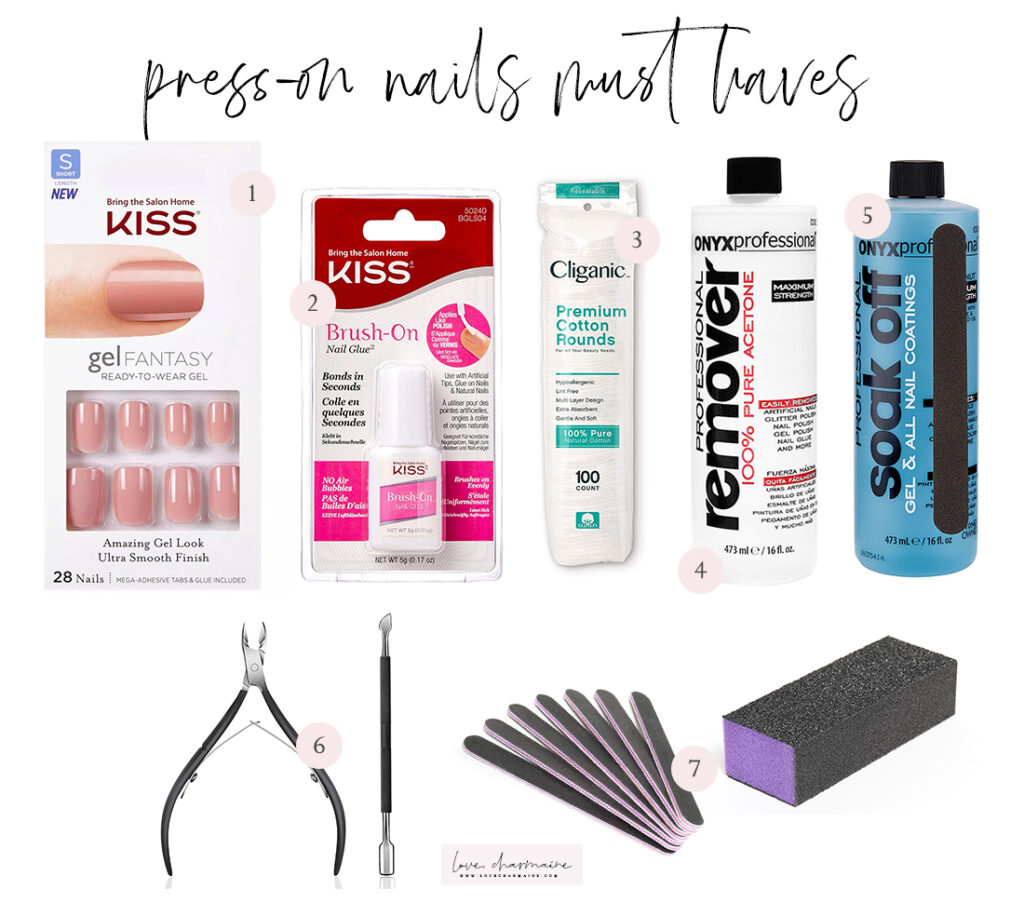 The Kiss (pink beige) short length press-ons are my favorite ♥ They just look so cute and very natural. I have tried their medium length ones and they're really good and wearable too. Now these kits do come with everything that you need: glue, adhesives, nail file, stick pusher. The brush-on glue is similar to the ones that comes with the nails, I just prefer the brush applicator, makes it easier and less messy. If you have rubbing alcohol, use that instead to wipe off oils on your nails and fingers, if not, acetone will work too. Below is a video on how I apply my press-on nails.
Step by Step
Make sure your hands are clean. Use a cotton pad/ball with rubbing alcohol or acetone to wipe off oils on your fingers and nails.
Push your cuticles back. Lightly file your nails.
Apply glue on your nails and a bit on the back of the fake nail. Don't apply too much, a tiny little dot will do. Just make sure you spread that and cover the entire surface.
Apply the fake nail in an angle pushing against your cuticle.
Hold and press the fake nail onto your nail for 10 seconds.
File the fake nail to your desire shape and viola!
Tips & Tricks
I always get asked how long they stay on for and for me, they last for 1 to 2 weeks. Here's what I do to make sure that happens.
Try not to get your nails wet afterwards to let the glue fully dry and adhere as good as possible. I know this can be hard so sometimes I do my nails right before bed so at least it has a full 6-8hours to dry.
DO NOT SKIP THE FIRST STEP! Removing the oils on your nails and fingers really does help for the glue to adhere better.
If you're like me and do a lot of chores around the house, if you can, wear cleaning gloves. Ie when doing dishes.
I think that about wraps up this post. I believe that's everything that I do. I hope you enjoyed this post and found it helpful! If you have any tips & tricks, please do share in the comments! I'd love to hear 'em. Thank you for stopping by and see you in my next post.
xoxo