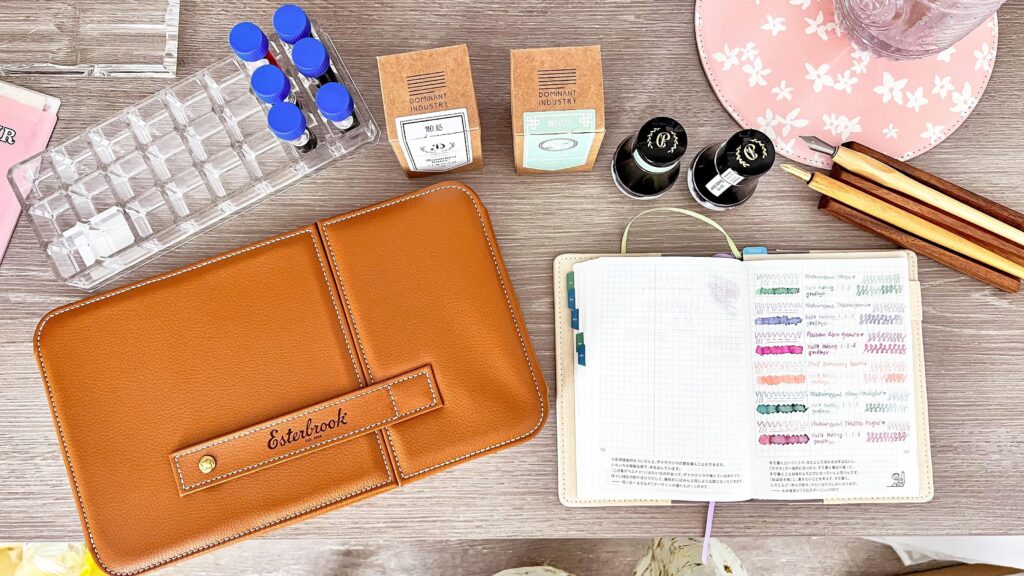 Hello loves! I hope you're all doing well. Goodness, I've missed blogging. Summer has been super busy but really fun. Since it's short-lived here in Wisconsin, we've really been trying to do as much as possible and soaking in all this good weather. Any who, it's been a while since I've done any stationery "haul-ing." My last purchase was beginning of May 6th and towards the end of June, I caved and had to get something. If you've been following me, then you might have seen it already but I recently got the Pineider Avatar UR Deluxe Fountain Pen – Angel Skin Extra Fine ($318.40), along with the Colorverse Project Series 65ml Bottled Ink – a Sgr ($29.50).
Such a gorgeous pen. I'm having a lot of fun playing with it, as it has a quill nib, which is so smooth and flexible. Definitely love writing in cursive with it. Now this past few weeks, Atlas Stationers had restocked a few things on my wishlist so I of course had to place a few orders. I finally got my hands on the Kakimori Brass Nib ($57.00) – I also went ahead and got the Kakimori Nib Holder – Sakura Wood ($33.00) and Kakimori Pen Nib ($26.00) since my Pilot Dip Pen is no more. Picked up a few Dominant Industry Inks: November Leaves ($15.00), Goryeo Celadon ($20.00). Last but not the least, this came a knocking in my email… the beautiful Esterbrook Twelve Pen Nook – British Tan $140.00.
My goodness! What gorgeous pieces right!? I'm so excited to cross these off of my wishlist. Everything is just as good as I thought they'd be. I'm super happy and if you can get your hands on any of these, I highly recommend! Next on my to-do list is to re-evaluate the things on my wishlist and do some major decluttering! At the moment, I have a few things listed for sale on this page. I'm hoping to be adding more to it by end of August (will keep you guys posted). Any who, this concludes this post for now. Time to go ink up some pens for the rest of summer 🙂 Thank you so much for stopping by! See you next time.