So I've been searching and searching online for dining table sets and I just can't seem to find the PERFECT one; And I really want to find one soon for I'm tired of eating on the couch. *sigh* A little background… Before I wanted our house to have this "modern" feel to it. But since we've moved in, that whole thing changed. I just really want my house to be cozy and elegant – not to mention, kid safe. YES I said it, kid safe. Off topic but Tom and I really want kids some time soon, we're planning/thinking in 2 years, so the year after we tie the knot.
Okay back onto what this post is really about. Since our kitchen cabinets are this like oak color, our granite counter top is Blue Pearl – which is pretty dark and we have dark hard wood floors; I didn't want the dining table and chairs to be "black." Or too much of a dark color. I guess I just want a bit of lightness in the kitchen haha. Also I want something cozy looking. Nothing generic or "square-ish" "blocky" looking like below…
I want more of that "cottage" looking dining table set I guess. Something cute, cozy and elegant looking. This is the first photo that I saw on Pinterest that I absolutely loved!
Now I know this is just too girly for Tom, haha. But that dining table is perfect ♥ Don't you think? I love the rustic look. Oh, "rustic," that's the word I've been looking for! haha. I just love how you can mix that with a contemporary style chair or elegant/tufted chairs like in the picture. Oh that table is fab!
Here are some more inspiration photos I found on Pinterest.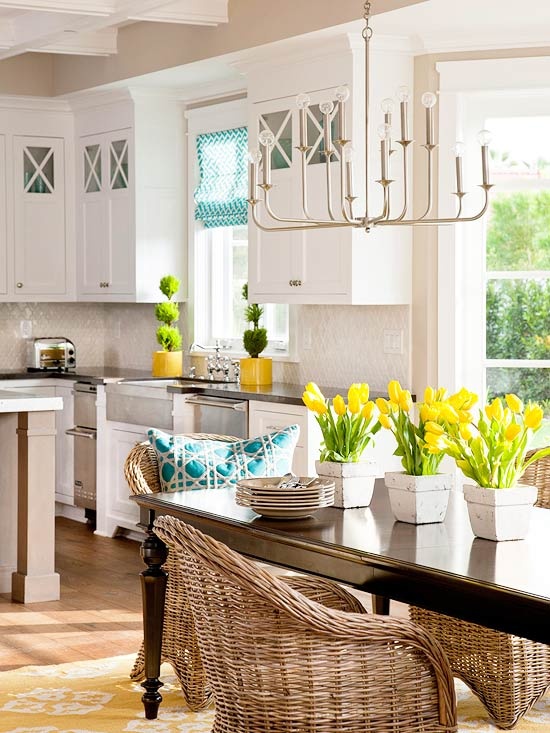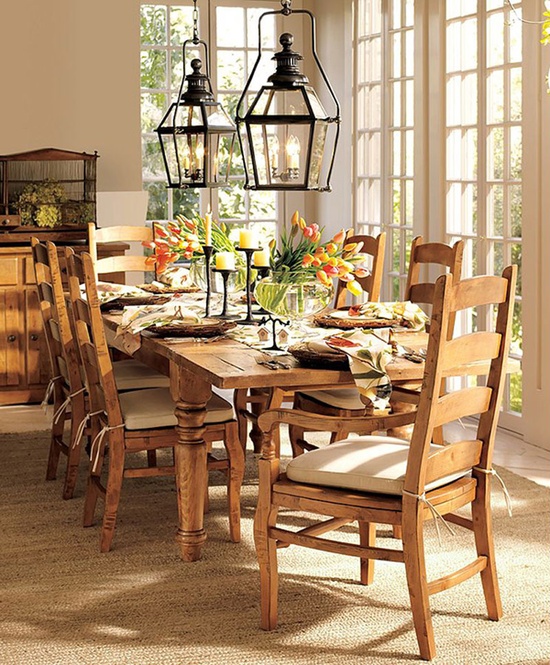 Source: 1, 2, 3
Anyways, I looked around some more and found this amazing dining table at Pier 1.
Sadly it is OUT OF STOCK online and everywhere near me (IN, IL, Lower MI) Boooo!!!!!
But there is another one at Pier 1 and it is available IN STORE… like seriously, it's 10 minutes away from me right now… lol It's almost the same as the one above (well it's from the same collection). I just love it!
I really think this would be perfect. This is IT! (Now I just got to convince Tom hehe)
What do you guys think? I really find it lovely… and really hoping we get it/Tom likes it. Or else I need to go look for a different one. *Crossing my fingers that I don't have to lol* Now to search for chairs to go with it ♥ I'm just really excited! I really want a dining table set asap…
Well if you guys have any ideas on where I can find a dining table set, please leave it as a comment below. I would really appreciate it. I hope you enjoyed this post and find it some what inspirational haha.
Love you guys, 'til my next post! xoxo